Copyright © 2016 ReverendFrank.com. All Rights Reserved.



...where hearts are joined.
Reverend Frank
Pennsylvania Wedding Officiant
Also available for Christenings/Baptisms,
Baby Blessings and
Memorial Services

Serving PA Counties of Lebanon, Lancaster,
& Western Berks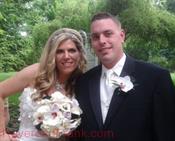 Welcome
Your Wedding Your Way!

Whether it's a Religious, Non-Religious, Spiritual, Non-Denominational or Civil Ceremony, finding the right person to preside over an important event or service can be a stressful undertaking. The Officiant sets the pace and tone of the service.My passion lies in joining couples and families in the events that are meaningful in their lives. Simply put, I love my job and the reviews I receive will attest to that fact. I will set the pace and tone that you expect. My objective is to make the decision process easier for you and yours so you can focus on other aspects of the day.

I have been performing weddings, christenings, baptisms, vow renewals and memorial services since 2001. While my main areas of service are Lebanon, Lancaster, Dauphin and Berks Counties, my extended service area goes much further.

I am experienced and well versed in officiating Religious, Non-Religious, Spiritual, Non-Denominational, and Civil Ceremonies Customized ceremonies are my speciality. My goal with every event remains the same: to provide the service or ceremony exactly as desired by those involved.

If you're unsure, give me a call. I'd love to discuss those things you have in mind for your important day and provide some ideas that may help to exceed your expectations.

For more information, please explore the rest of my website. Each ceremony type has its own page with additional details about customizing it, as well as information on fees and expectations. I am available to answer any questions by phone or email.

Please call or click HERE to contact me.